How Would Jesus Respond to Beggars?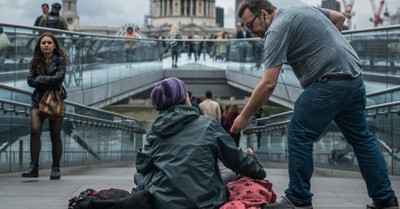 By Melinda Eye Cooper, Crosswalk.com
Have you ever ignored a beggar?
To be honest, I have. It can, unfortunately, feel 'annoying' to see the same person on the street each day holding a sign. I've thought to myself: how is that their full-time job? Many of us may think this as we head to jobs we don't even like.
But sometimes life is hard and things don't go our way. The truth is, tragedy can happen to anyone given the right circumstances. We could develop serious health problems, drug addiction, mental illness, job loss, or any of a number of challenges. And just like anyone...we, too, could end up homeless, penniless, and possibly begging as well.
When my youngest son was a baby we were barely scraping by. I stayed home with him and my husband drove a truck for a living. Each week, after I deposited his paycheck, I'd head to the store to buy household necessities.
This particular day, I made the deposit and put 28 dollars in cash in my wallet, for anything unexpected that might come up until the next payday. Not a lot of cash for a whole week, but I'd make it work.
As I drove to the store with baby in tow and pulled off the exit, I groaned. There was the homeless man with his sign again, asking for help. Usually, I would feel I "got lucky" when the light would be green so I could just drive on by.
But this day, I was the first car to stop at the red light and the beggar stood inches from my car.
Jesus Turns His Face toward Need
I don't know why I did it, but instead of ignoring him, I turned and faced him. Deep lines in his face conveyed he'd lived a rough life. The moment our eyes met, I felt a nudge to give him money but thought, I don't even know how much to give. God spoke clearly to my spirit. Give him the five-dollar bill in your wallet.
I pulled the five from my wallet, rolled down the window, and handed him the money. His cold hand brushed mine as he took it and said, "God bless you."
"God bless you, too," I replied. I rolled up the window as the light turned green and drove to the store—overcome with emotion.
After I finished shopping, I drove back toward the interstate. I saw the homeless man walking away from a fast food restaurant. I smiled. I guess God wanted to feed him breakfast.
My thoughts toward giving money to homeless people changed that day.
I will give when prompted by God to give. Because yes, there are some out there who beg as a full-time job and probably make more money doing that than working somewhere. They may spend it on alcohol or drugs. Our work as Christians is to seek God and be obedient.
As Christians, we should try to model the behavior of our Savior. We've been given a great example to follow.
Here are three wonderful responses from Jesus in Luke 18:35-43: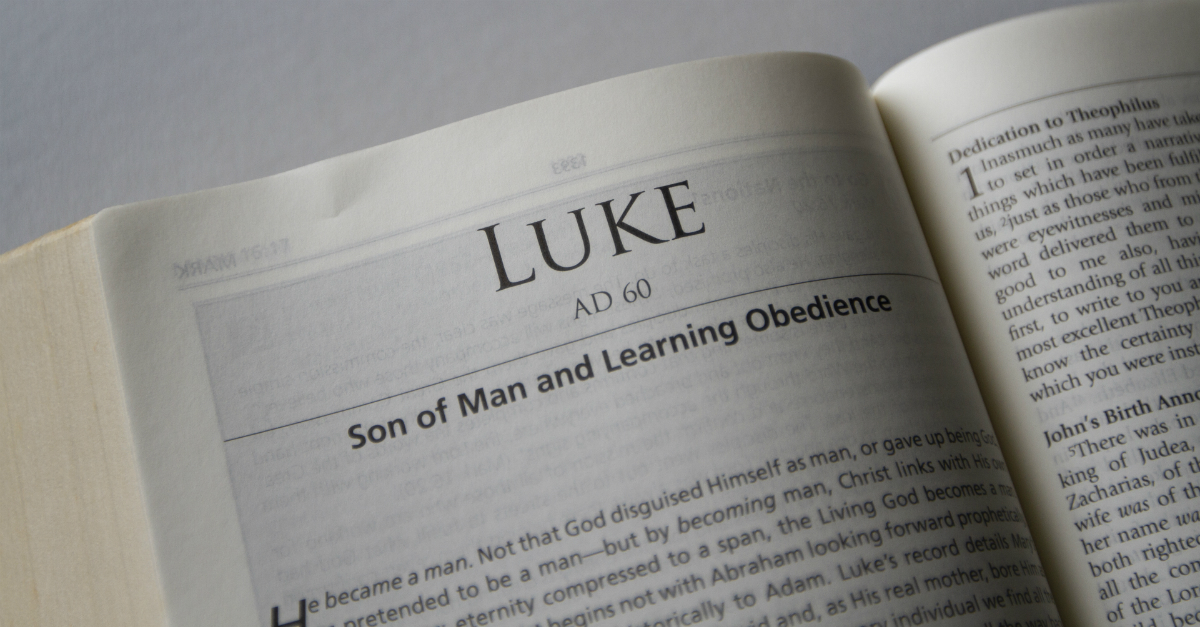 Photo Credit: ©Sparrowstock
Jesus Listens to the Beggar Who Called out to Him in His Trouble
As Jesus approached Jericho, a blind man was sitting by the roadside begging. When he heard the crowd going by, he asked what was happening. They told him, "Jesus of Nazareth is passing by." He called out, "Jesus, Son of David, have mercy on me!" Those who led the way rebuked him and told him to be quiet, but he shouted all the more, "Son of David, have mercy on me!" – Luke 18:35-39
The blind beggar finds out Jesus is passing by and calls out for mercy. When he was rebuked and told to be quiet, he shouted all the more. He knew Jesus and what He could do for him. He had to, or why would he persist in asking for mercy?
He showed great faith by continuing to call out for Jesus—even when he was told to be quiet. He didn't want to miss his opportunity. Jesus heard him and responded.
We, too, can listen. When we see someone begging, we should listen to the Holy Spirit. Is He telling us to give?
Jesus Shows Compassion and Mercy
Jesus stopped and ordered the man to be brought to him. When he came near, Jesus asked him, "What do you want me to do for you?"
"Lord, I want to see," he replied. – Luke 18:40-41
When the beggar called out, Jesus heard him and stopped. Then Jesus ordered the man to be brought to Him.
The beggar is brought before the King.
Jesus shows compassion and mercy toward him by stopping and then asking, "What do you want me to do for you?"
Like Jesus, we should show compassion. Whether we give money or not, we should be kind. We can offer a warm smile and a kind greeting if nothing else. Our tendency is to ignore—and I'm as guilty as the next person—but everyone deserves kindness and acknowledgement in some form.
Jesus Gives What Is Needed
Jesus said to him, "Receive your sight; your faith has healed you." Immediately he received his sight and followed Jesus, praising God. When all the people saw it, they also praised God. – Luke 18:42-43
If God speaks to us and nudges us to give money, by all means, obey God. We have no idea why God wants to give that particular person money. He may just want to feed him breakfast. He may want the beggar to know He is listening, has compassion, and wants to give him what's needed at that moment.
We see a domino effect in this passage with spiritual implications. After the beggar received his sight, he followed Jesus, praising God. Then everyone who saw it, praised God, too. This makes my soul dance.
God wants to use us in the life of another person—and that's quite an honor.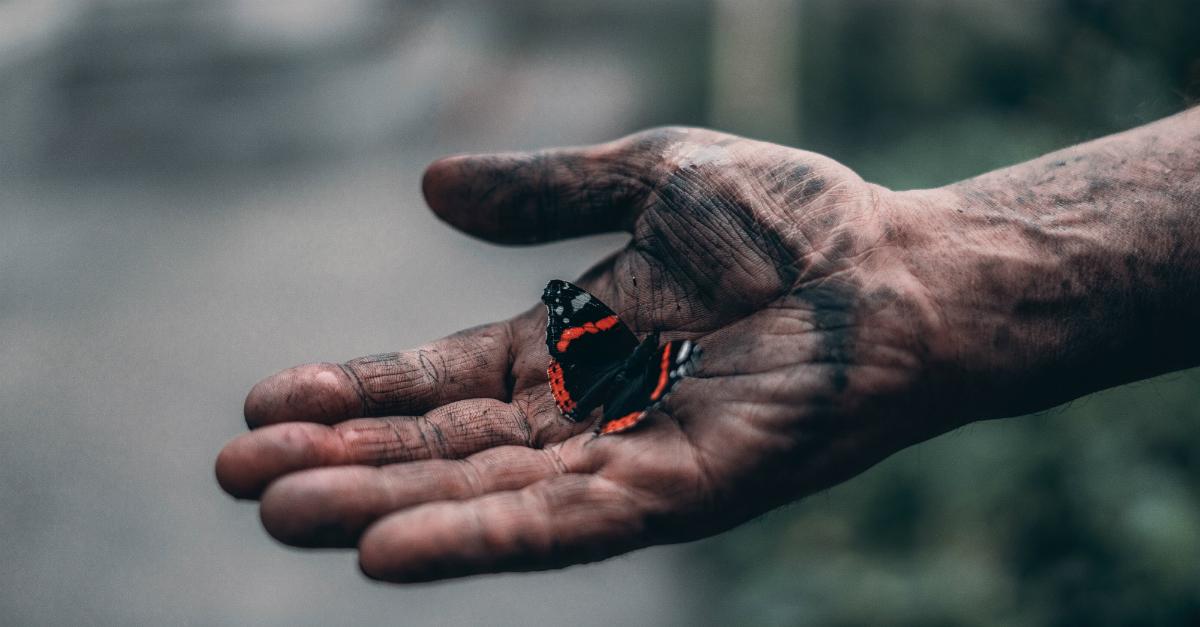 Photo Credit: ©Unsplash/Elijah O'Donnell
4 Scriptures about the Poor
"Whoever is kind to the poor lends to the LORD, and he will reward them for what they have done." – Proverbs 19:17
But as for me, I am poor and needy; may the LORD think of me. You are my help and my deliverer; you are my God, do not delay. – Psalm 40:17
The poor you will always have with you, but you will not always have me. – Matthew 26:11
The poor plead for mercy, but the rich answer harshly. – Proverbs 18:23
It can be easy to pass judgment on a person begging. Especially, if they have pets or children with them. It may be true that some unscrupulous people will use or exploit others for money.
But we need to seek God and be obedient. He's faithful to answer about when to give and when to be cautious.
The truth is, we're all beggars in desperate need of Jesus. God didn't ignore us. He didn't withhold what we need the most. He showed compassion and gave His beloved Son for us.
For God so loved the world that he gave his one and only Son, that whoever believes in him shall not perish but have eternal life. – John 3:16
So, how would Jesus respond to beggars? With compassion, mercy, and great love.
Photo Credit: ©Unsplash/Tom Parsons
---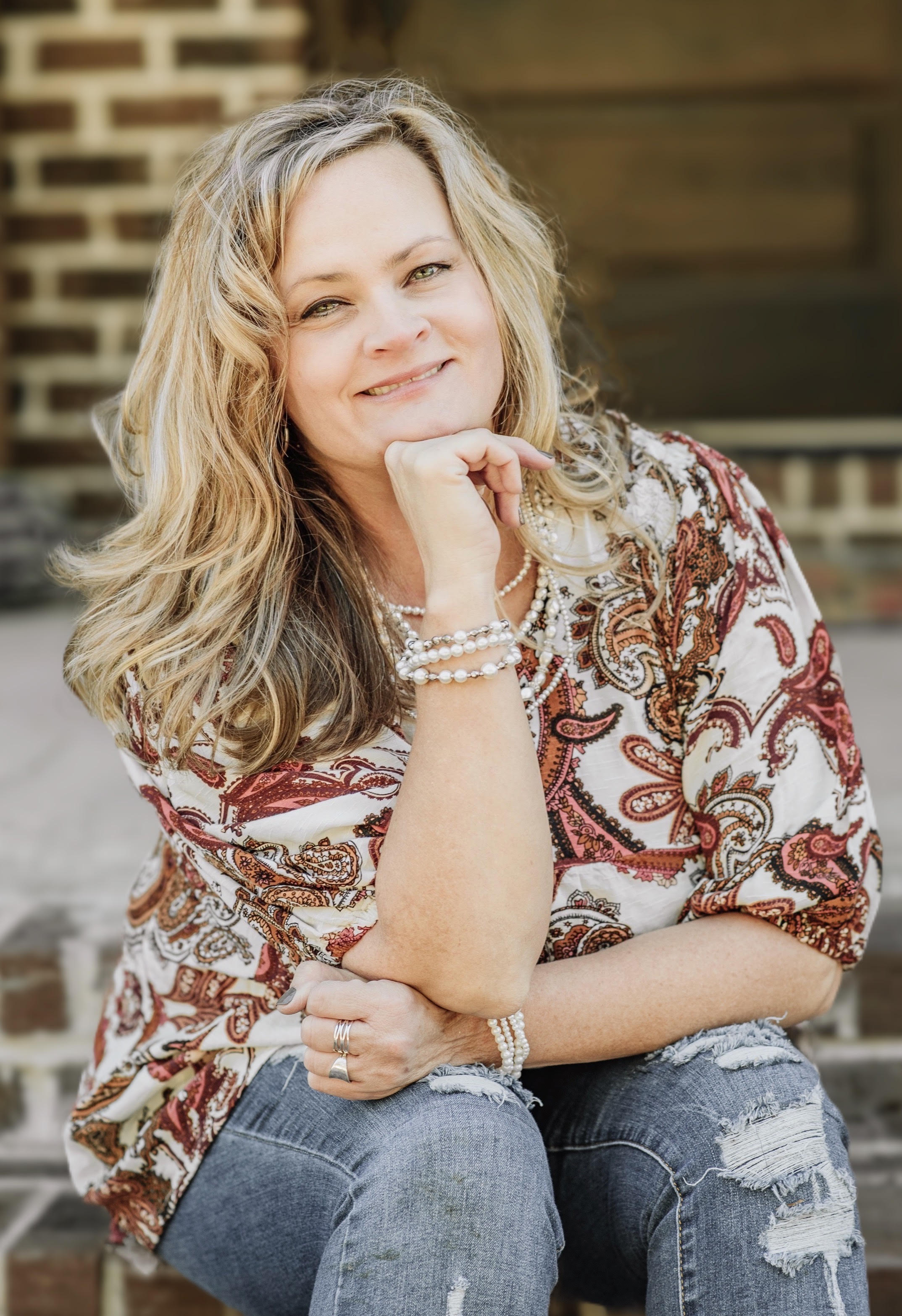 Melinda Eye Cooper grew up in the Missouri Ozarks but lives near Nashville, Tennessee. She and her husband have three sons, two daughters-in-law, and three beautiful granddaughters – and a spunky dog named Lincoln!
Melinda writes articles and devotions. She also writes fiction and is currently working on a middle-grade fantasy novel. She grew up in a large family, and many of her devotions and stories are inspired from her childhood.
Visit her website here. You can follow her on Facebook here or Instagram here.
Related podcast:
The views and opinions expressed in this podcast are those of the speakers and do not necessarily reflect the views or positions of Salem Web Network and Salem Media Group.
Related video: