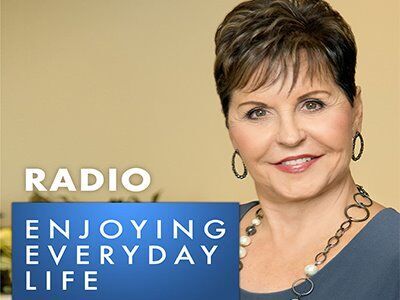 Joyce Meyer Ministries has a God-ordained mandate to impact the world. Through the teachings and calling God has given to Joyce, Joyce Meyer Ministries is dedicated to sharing God's love and the life-changing message of the Bible with the world through TV, radio, various media productions, live conferences and this website.
Show Links:
---
Joyce Meyer is one of the world's leading practical Bible teachers. She is a New York Times bestselling author, and her books have helped millions of people find hope and restoration through Jesus Christ. Through Joyce Meyer Ministries, she teaches on a number of topics with a particular focus on how the Word of God applies to our everyday lives. Her candid communication style allows her to share openly and practically about her experiences, and helps others understand how to apply biblical principles to their own lives.
Millions of people worldwide get Joyce's program, Enjoying Everyday Life, through television, radio, and online media outlets. Joyce has authored 130 books, many of which have been translated into 155 languages. More than 37 million of her books have been distributed free of charge around the world, and each year millions of copies are sold.
A survivor of childhood sexual abuse, Joyce discovered how to overcome the pain of her past and have a life filled with real love, hope, peace and joy by applying God's Word to her life, and she desires to help others do the same. God has provided Joyce with the opportunity to share Christ and love people worldwide, and for more than 37 years, her annual Love Life Women's Conference has drawn hundreds of thousands from all over the world for a life-changing weekend with Joyce, her special guest speakers, and award-winning worship artists. Joyce teaches thousands more each year at conferences throughout the United States, in addition to domestic and international speaking and outreach opportunities.
Joyce's passion to help hurting people is foundational to the vision of Hand of Hope, the missions arm of Joyce Meyer Ministries. Hand of Hope provides worldwide humanitarian outreaches, such as feeding programs, medical care, clean water, and disaster-relief efforts. Joyce also established Project GRL, an initiative birthed out of her heart to give women and girls who are marginalized by society or their circumstances a chance to become all God has created them to be. These outreaches guide, restore and love them, helping them discover their true destiny in Christ.
In her home city of St. Louis, Missouri, Joyce and her husband, Dave, founded the St. Louis Dream Center in 2000. The Dream Center serves the inner city of St. Louis through practical programs and outreaches that care for hurting people and families in need.