Travel Tip - What I Pack in my Shaving Kit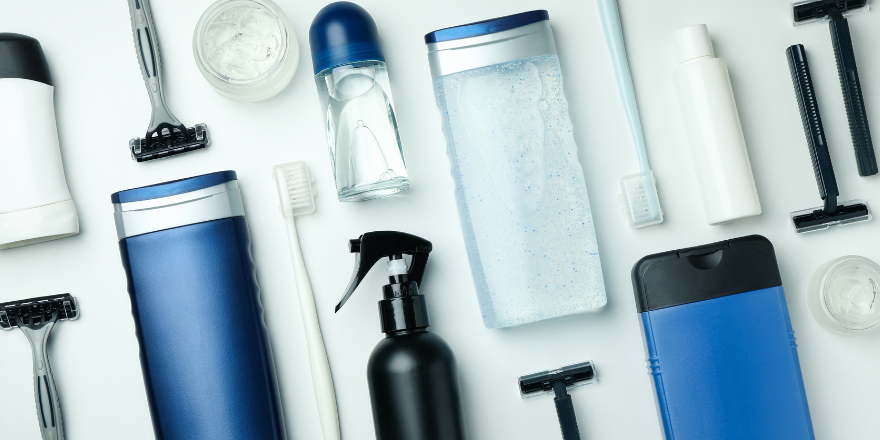 As you know, I travel a lot for a living. I fly more domestic flights than international and for shorter duration trips. Which means my carry on is my only means of transporting the essential items I need when I'm shooting episodes of my television shows. This includes my toiletry or shaving kit. This is a separate bag containing all I need to freshen up. You may know it as a dopp or toiletry kit. So in this article, I am detailing how I approach the planning and packing of my shaving kit.
Custom
You may be surprised to learn that I plan my packing carefully including my toiletry bag. In doing so I consider the number of nights I will be away. I do this because I have different quantities of lotions and potions and I select an appropriate amount based on the duration of the trip. Most of my trips are an average of three nights, so that gives me a pretty good gauge as to what I need.
Essentials
The second step in planning out the kit is to consider the essentials. Here are mine:
Shampoo
Conditioner
Bar Soap
Razor & Spare Blade
Aftershave Balm
Toothbrush
Toothpaste
Floss Picks
Mouthwash
Deodorant
Lotion
Hair Pomade
Every item listed above is 3 oz. or less (more on that in a moment) and I place the liquids in a clear, inexpensive yet durable bag which is small enough to fit inside my toiletry bag; but that's not where I put it. If I am flying with carry-on only, I place this small, see-through bag in an outer pocket of my carryon or briefcase, making it easy to remove for inspection. The rest of the items go directly into my toiletry kit.
Just In Case
I also pack items that I have learned I may need and over the years have spent too much money on when I had to buy them at the hotel. These include the following:
Ind. wrapped Advil
Antacids
Band Aids
Q Tips
Little scissors
Mini nail care kit
Cough drops
Eye Drops
Hand sanitizer
Sunscreen
Ind. wrapped alcohol wipes
Weight
The weight of my luggage matters greatly to me. I don't like lugging around heavy stuff and I really don't like buying things on the road that I have at home. It is a bit of a balancing act but I take into consideration every ounce. For instance, I use disposable toothpaste packets. I don't use shaving cream (I use hand soap or lotion) to shave. I pack a lighter, travel toothbrush. I pack portions of things such as medications, pain relievers, q tips, etc.
TSA Compliance
Everything I bring is TSA compliant. It is important you know the rules before you approach security.
Size Matters
I have three different amenity kits I use depending on the duration of the trip. So my suggestion to you is to lay everything out you want to bring with you and then pair it down if possible. Then select and/or purchase a toiletry kit which will hold all of your planned items.
Shameless Promotion
This is such an important issue to me, I actually designed a line of customized amenity kits to help you plan for your next vacation. They have been very well received and I am very proud of them. Take a look at my Etsy shop, I am sure I have an amenity kit which is almost perfect for you!
In summary, when it comes to planning and packing your shaving kit, makeup bag or dopp kit, an ounce of prevention is greater than a pound of cure. Hopefully my decades of trial and error will help you plan for wild vacation success! Now get out there and explore and I'll see you in line at security.