Travel Tip - How To Choose The Best Cruise Cabin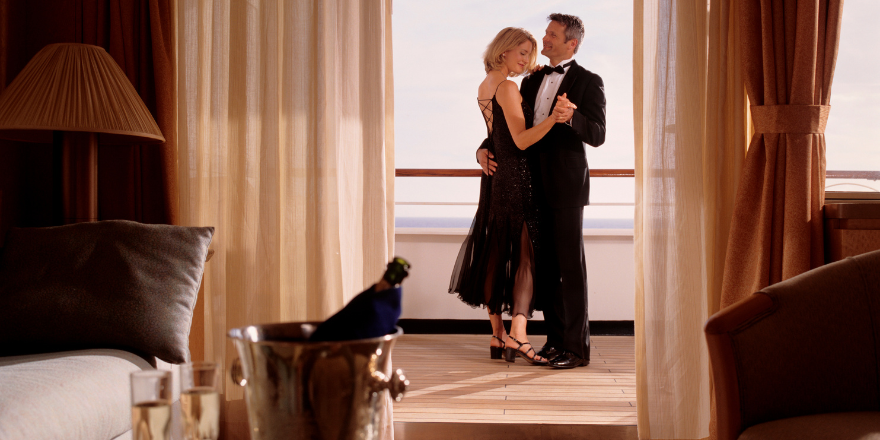 If you read my previous article about which cruise is right for you and have made your selection, then the next big decision is to tackle what cabin you are going to select. Incidentally, this article is geared towards the first-time cruiser and will explain soup to nuts what to expect.
Nomenclature
The private rooms on a ship where YOU sleep is called a cabin or a stateroom. Suites and specific types of staterooms such as a "balcony" or "inside" are still referred to as cabins or staterooms. During your booking process, you'll hear references made to your specific stateroom number, deck number or name and location on the ship. For example cabin 1034, deck 10 mid ship. This means that is your specific cabin number, it's located on deck 10 and in the middle of the ship (closest to the mid stairwell or elevator).
Pricing
Pricing is per person based on double occupancy. If you are a solo traveler, then you may be charged more than just a "single price". It's sometimes referred to as the "single supplement". Some lines such as NCL cater to solo travelers. Also, pricing is based on availability and itinerary popularity. The same cabin on the same itinerary may be higher or lower price based on the sail dates. That's S-A-I-L dates.
Expectations.
On any mass market ship, a cruise cabin is similar to a hotel room in terms of amenities and features. It usually includes a bed, bathroom, closet, some sort of vanity or desk (or both) and chair, side tables and other appropriate furnishings (more on specifics a bit later). What you won't find in a cruise cabin (for the most part) is any electronic device with a heating element such as an iron or a hair dryer.
Cabin Life
Cabin life is small. With the exception of the suites, cruise staterooms are small and appropriately appointed. However, you get your bearings quickly and the layouts are usually very ergonomic.
Cabin Types
Some ships have many "types" of cabins which usually have something to do with square footage, deck and placement on the ship (mid ship, forward or aft). The four basic types of cabins are: suite, balcony, ocean view and inside.
A suite sounds just like what it is. It is a larger stateroom and usually the most expensive room category. Suite life on a cruise ship has a different vibe. Suite guests enjoy a host of additional perks such as priority and dedicated embarkation, double or triple loyalty points, exclusive event and dining options and in some cases private butler service. Suite can be multi bedroom or adjoining other stateroom types.
The next tier of cabins are the balcony cabins. These are cabins with exterior balconies. Most mass market cruise ships are designed with the most number of balcony cabins. Again, not a lot of square footage, but you are able to step out onto the balcony and take in the fresh air from the comfort of your cabin. Most balconies are large enough for a couple of chairs and a small side table.
Oceanview cabins are those that have a window to the outside but not a balcony. This coyle be a larger window, an obstructed view window or a porthole. These are slightly less expensive than balcony cabins.
The least expensive option on board most ships is an inside cabin. This is a stateroom with no windows to the outside.
If you are looking for multiple cabins that are adjoining, then book early. Ships do not have as many of those as you might imagine.
Pitfalls
Please seek the advice of a qualified cruise professional when selecting your stateroom for your next cruise. Proximity to other facilities on the ship have everything to do with the kind of noise you are going to experience. The motion isn;t usually a factor but if you are sensitive to it, then that also is a consideration. Ask where the busiest deck is and where your room is relative to that. The theatre, the kids club, the night clubs and the elevators will all play a role in noise here.

My Bottom Line
It really depends on you but for me, I try to stay in at least a balcony cabin when I sail. That's just me. The reality of it the matter is, you really won't be spending too much time in your stateroom. If my budget permits, I do sail in suites because the extra space (and pampering) is a nice touch.
The good news is, my guess is, there is a perfect cabin and the right price just for you. Do your research and then bon voyage! No get out there and hit the high seas and I'll see you in line at security.