5 Traditional Christmas Activities You Can Make More Meaningful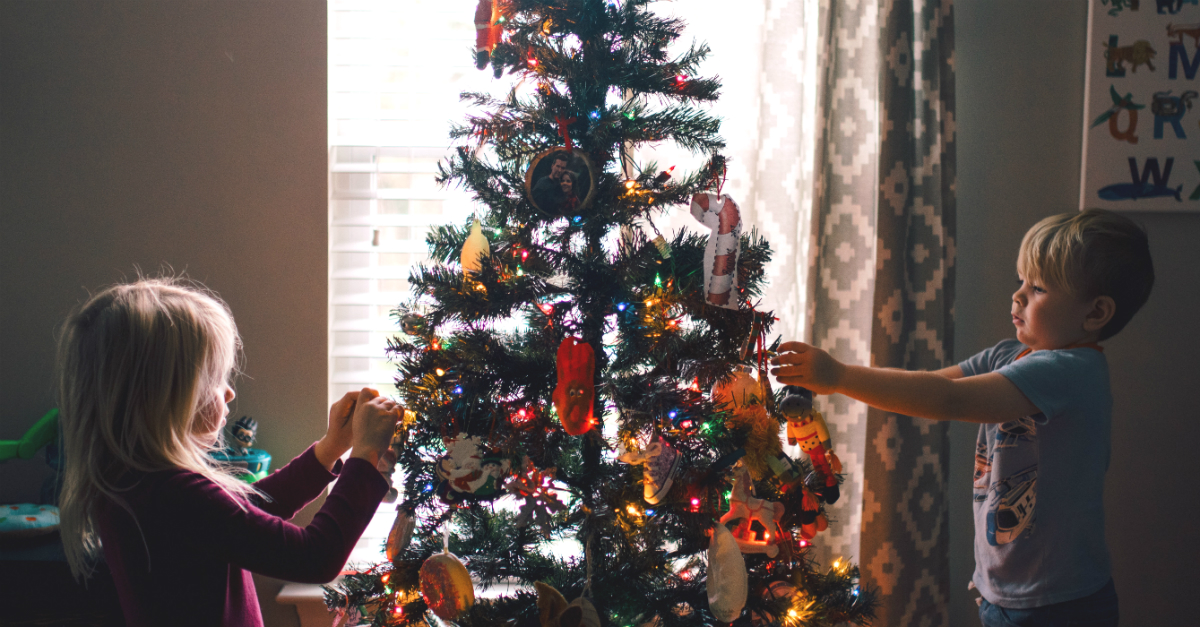 By Meg Bucher, Crosswalk.com
Christmas is less about the extravagant decorations and lists full of presents to buy, and more about styling our hearts to recognize Jesus' presence. In our busyness, we lose sight of His permanence. God's gift permeates our everyday lives, yet our daily routines don't always leave traces of His continual presence. Here are five ways to give proper prominence to Christ this Christmas Season.
1. Decorating the Christmas Tree
Hunting for the perfect Christmas tree instills a tradition full of memories. It's always an adventure, hiking though the rows of evergreens to find the perfect tree. The experience adds a colorful chapter to the Christmas season. If cutting down a real tree isn't an option because of allergies or other circumstances, consider the experience anyway… and possibly gift the tree to a family it would bless this Christmas.
Decorating the Christmas tree is something many look forward to. As the lights are being lit for the first time, or strung around the tree, pause for a moment to remember what these lights at Christmastime symbolize. Our Savior, Jesus, is the light of the world. The night He was born, God lit up the night sky with an army of angels singing "Glory to God in the Highest!" Christmas lights during the long dark hours of December days remind us Jesus is the light of the world.
It can take a while to accumulate a tree full of ornaments that mark the milestones of a full life. For those starting out, a simple way to give meaning to plain bulb ornaments is to write a verse on them with a paint marker, or prayers for the life being built. Simply reciting a verse of the Christmas story in Luke for each ornament can give decorating the tree new meaning. If a Christmas tree and all of its trimmings aren't in the budget or fit into the schedule, find a local Christmas tree lighting ceremony, and if possible, make a point to include the lit tree in the daily commute.
2. Holiday Gift Giving
Make a plan to give while Christmas shopping, by budgeting and preparing a portion to drop in the red bucket adorning storefronts, or help a struggling family with their Christmas shopping. Prayerfully plan ahead to have a heart, and the means, to give, and then practice listening to God as He places people purposefully in our paths. God loves a cheerful giver! It's healthy for our souls, and blesses our lives.
Another way to make holiday gift-giving a little easier is a family gift exchange. As extended families grow, it can become difficult to think of and budget for numerous gifts each Christmas. Drawing names limits everyone to getting, and giving, one special gift, making the experience more enjoyable and meaningful.
Finally, consider making a charitable cause part of the Christmas list. Whether locally or across the world, there are many organized charities putting together efforts to bless those in need. Find one and make it a family tradition to contribute to the cause.
3. Caroling
I am an early Christmas carol listener. Often before Halloween, I begin to anticipate the excitement of the Christmas season. Belting our favorites during our daily commutes is fun, especially when the car ride becomes a sing-a-long. When we fill our homes and lives with songs in praise of our Savior being born on earth, our seeking of His presence adds meaning to the Christmas season.
Singing carols is a great way to brighten someone's day. Caroling door to door with friends or family can be a wonderful tradition enjoyed for years and passed down through generations. It's important to remember shut-ins, elderly, hospital patients, and nursing home residents all throughout the year, but especially around the holidays. Jesus came to earth for everyone, and it's important to bring His light and love into the dark corners of our communities. I can be hard to find time during December to add another outing or event, but I believe God honors our efforts and blesses our lives when we make room and priority for those who are lonely in life. Carol as a family, or with a group of friends.
4. Baking Cookies
Christmas cooking baking is a tradition for many! Start with a few recipes that blend together different sides and heritages of the family. For some, a little digging might have to be done to find old recipes or discover traditional treats from different ethnicities and homelands. Add in childhood favorites and then pick a new recipe to try each year. Sugar cookies are easy for kids to help decorate. An easy guide to a complete cookie tray? One family recipe, one childhood favorite, one cookie with candy in or on it, and sugar cookies.
Sharing cookies can be just as fun as making them. Growing up in the Cleveland area, my favorite part of school Christmas parties were the different ethnicities and renditions of Christmas cookies! Many traditional recipes can be easily adapted to accommodate food allergies. Christmas cookie swaps allow neighbors and friends to share traditions and add new recipes! Make it a family tradition to make them together, and deliver batches to neighbors, friends, and first responders in the community. There's nothing necessary about cookies in life! They are a special treat, and a fun way to bless others at Christmastime.
5. Christmas Church Services
Churches are packed for Christmas Eve and Christmas Morning services, some far exceeding regular weekend attendance. Whether we attend faithfully, sporadically, or only on holidays, Jesus welcomes all of us equally. Christmas is a time to come together as a family, and the church is God's family. Let go of your "normal seat," look down the row, and thank God for every voice singing praise to Jesus in worship. God promises when one or two gather in His name, He is with us! Emmanuel literally means, "God with us!"
Because of the Christmas crowds, many church ministries need extra volunteers. Sign up to serve as a family as greeters, in the children's ministry, or to help keep the coffee flowing. Serving Christ together as a family on Christmas is a special way to celebrate Christ. He came to serve, not to be served. Attend one service, and serve at another. Again, remember those who are shut-in or lonely this Christmas, like those who have lost loved ones or spouses. Invite them to church and offer a ride. Christmas is a reminder to look out for each other, and love as Jesus did.
There are many more holiday traditions and activities we could mention here. Each one becomes more meaningful when we keep Jesus at the center of our thoughts and happenings. How can we love others better, and notice Him more, this Christmas season? Start each day with Him in prayer, and humbly ask for His direction, perspective, and love to flow out of us this Christmas season, and all throughout our lives.
---
Meg Bucher writes about everyday life within the love of Christ. An author, freelance writer and blogger at Sunny&80, she earned a Marketing/PR degree from Ashland University. Her first book, "Friends with Everyone," is available on amazon.com. Meg leads/teaches Bible Study in Women's and Youth Ministry. Living in Northern Ohio, she's been wife to Jim for a decade and counting, is mom to two tween daughters, a distance runner, photographer, and avid Cleveland Browns fan.
Meg writes about everyday life within the love of Christ as an author, freelance writer, and blogger at Sunny&80. Her first book, "Friends with Everyone," is available on amazon.com. She earned a Marketing/PR degree from Ashland University but stepped out of the business world to stay at home and raise her two daughters. Besides writing, she leads a Bible Study for Women and serves as a Youth Ministry leader in her community. She lives in Northern Ohio with her husband, Jim, and two daughters.