5 Easy Recipes to Try This Christmas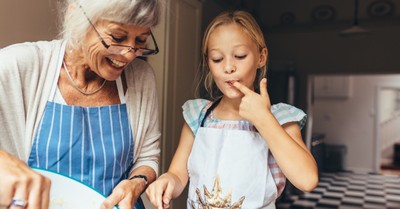 By Lynette Kittle, Crosswalk.com
For many of us, Christmas is a time of eating delicious food together with family and friends. It's even biblical to delight in and enjoy our holiday dishes because Ecclesiastes 9:7 encourages us to eat our food with gladness.
As well, in a season that offers us comfort and joy, serving tasty meals is one way of sharing it with those around us. Eating a meal together often brings a sense of joy and contentment to our physical bodies, along with drawing people together emotionally and spiritually. Good food helps to build bridges and cultivate connection between us.
Like Sound Mind Center's licensed psychotherapist Gretchen J. Penner explains, "Healthy connections are a primary need that we all have."
Serving appetizing dishes to eat together helps to nurture weary souls, along with satisfying genuine hunger. Sharing food has a way of breaking down barriers between people and opening hearts to receive spiritual truths. Jesus often feed individuals physically, so they could better receive spiritually from Him.
Whether it was feeding a famished crowd of five thousand (Matthew 14:21), or serving breakfast to His disciples (John 21:12), He satisfied both hungry souls and rumbling tummies, often with simple meals like bread and fish (John 21:13).
Keep It Simple
When it comes to cooking and baking, I'm with Jesus on serving easy meals, usually passing on preparing recipes with a lengthy list of ingredients.
Not that I don't enjoy eating delicious dishes containing a long string of items, but in every season I look for quick, easy, and delicious recipes, especially during the Christmas season.
Trying simple recipes gives us more time to spend strengthening relationships with friends and family, along with saving us hours of preparation time in the kitchen. Below are five easy recipes to try this Christmas:
1. Colorful Christmas Salad
Stacie Vaughan, creator of simplystacie.net serves a "best ever" Christmas Salad each year to her family, called so because the ingredients have all the colors of Christmas. Vaughan writes, "It's the kind of salad you want to heap on your plate. It's so good! I love each crisp, crunchy and creamy bite."
Christmas Salad
Ingredients:
1 head of broccoli chopped into florets
1 head of cauliflower chopped into florets
1 red onion, thinly sliced
2 cups cherry tomatoes halved
Add ingredients to salad bowl. In another bowl, whisk the following dressing ingredients together:
1 cup mayonnaise
½ cup sour cream
1 tablespoon sugar
Pour dressing over veggies and toss together. Chill at least one hour before serving.
So easy and can be made the night before, along with adding items like ½ cup shredded cheddar cheese, ½ cup sunflower seeds, or whatever additional tastes your family will enjoy.
2. Delicious Salmon Grill
After living in Alaska for a few years and eating my husband's freshly caught salmon, the following recipe is a year-round favorite dish at our house, especially at Christmas. It's easy to prepare, grill, and serve; plus it tastes scrumptious!
Created by our beloved pastor's wife, Marilyn Downie makes this recipe's creamy sauce even more special to us. Along with delicious dishes, she and husband Dave gave us much love and TLC during my husband's assignment at Elmendorf AFB, Alaska.
Alaskan Special Sauce Salmon


Ingredients:
1 cup mayonnaise
½ cup brown sugar
1-3 teaspoons liquid smoke
2 tablespoons catsup
1 teaspoon lemon
Mix ingredients together, pour over 1-2 lb salmon filet, and marinate overnight. Grill on medium-high, basting with sauce until done. May also be wrapped in foil and cooked on grill for easy cleanup.
3. Old-school Crowd Pleaser
Growing up, Green Fluff, also called Watergate Salad, Pistachio Salad, and other creative names, was a real crowd-pleaser. Friends and family looked for it at Christmas gatherings and there was an air of disappointment if it didn't show up. People just couldn't seem to get enough of it.
Light and fluffy like its name suggests, it brings back sweet memories of family and church gatherings where it was a much anticipated and welcomed dish in the Christmas dinner line-up.
When first created, this recipe had only two ingredients, whipped topping and pistachio pudding. As its popularity grew, individuals started creating their own variations of the recipe by adding additional ingredients like pineapple, marshmallows, nuts, and more.
Easier than pie to mix together, it definitely is a dish that hits the sweet spot and looks festive on a Christmas table.
Green Fluff
Ingredients:
1 (20 oz) can crushed pineapple, drained
1 (3 oz) package instant pistachio pudding mix
1 (8 oz) container frozen whipped topping, thawed
½ package miniature marshmallows
½ cup chopped walnuts or pistachios (optional)
Mix all together in a large bowl until well blended. Refrigerate for hours until chilled and serve. Sprinkle maraschino cherries on top to dress it up for Christmas.
4. Family Favorite Pound Cake
Retired kindergarten teacher, Pam Schmidt, grew up in Chicago eating her great Aunt Lizzie's pound cake every Christmas. Rich in flavor, history, and tradition, her husband Dave, kids, and grandkids now look for this special treat each year on the menu.
Old-fashion Pound Cake
Ingredients:
1 lb butter (Pam uses 2 sticks butter + 2 sticks Imperial)
1 lb. powdered sugar sifted
6 eggs beat in one at a time
3 cups sifted cake flour
Pinch of salt
Mix well and bake in tube pan at 350 for approximately 1 hour and 15 minutes.
Serve plain or with your favorite Christmas topping including peppermint crumbles, chocolate sauce, and whipped cream.
5. Super Moist Cake
Although this recipe contains more than a few ingredients, it's so easy to whip up and definitely worth the effort once you take a bite and taste the warm, moist, delicious cake.
It's a favorite at Brenda Grimm's house, as husband Dwight, daughter Alison, and grandson, Fred, request and look for her delicious apple cake during the Christmas holidays.
Apple Dapple Cake


Ingredients:
2 cups sugar
1 cup oil
2 eggs
3 cups flour
½ teaspoon salt
1 teaspoon cinnamon
¼ teaspoon nutmeg
1 teaspoon vanilla
4 cups chopped apples
Mix all ingredients together and bake in 13 x 9 pan 350 40-45 min.
Warm Sauce Ingredients:
½ cup brown sugar
2 teaspoons flour
¼ cup sugar
1 cup warm water
Mix all together and boil for one minute. Remove from heat, add 1 teaspoon vanilla and pour over warm cake.
Although the sauce is more than enough flavor, it tastes even sweeter topped with a spoonful of whipped cream or scoop of vanilla ice cream.
Added Christmas Joy
For some added Christmas joy, consider incorporating easy recipes into a fun event. Below are three suggestions to make the most of easy dishes:
1. Progressive Dinner
Facilitate a progressive dinner, which is a meal where each course is served and eaten at a different house or location. As guests "progress" from one house to another house, it's like a potluck meal on wheels and is especially fun at Christmas with all the festive decorations to enjoy.
2. Christmas Dish Exchange
Instead of a Christmas cookie exchange where each participant makes extra dozens of cookies to swap with one another, make extra dishes to exchange with friends, family, or co-workers. If more than two or three contribute, each family takes home an entire ready-made Christmas meal to enjoy.
3. Dish Drop-off
Consider organizing a group willing to each prepare a number of the same dish. Combine one dish from each person to create complete meals, ready to drop off to individuals who may not be able to get out, prepare, or buy a Christmas meal themselves. Like the prophet Nehemiah encouraged his people, go and enjoy food and sweet drinks, along with sending some to those who have nothing prepared (Nehemiah 8:10).
Photo Credit: GettyImages/jacoblund
Lynette Kittle is married with four daughters. She enjoys writing about faith, marriage, parenting, relationships, and life. Her writing has been published by Focus on the Family, Decision, Today's Christian Woman, kirkcameron.com, Ungrind.org, StartMarriageRight.com, and more. She has a M.A. in Communication from Regent University and serves as associate producer for Soul Check TV.