7 Ideas for Family Togetherness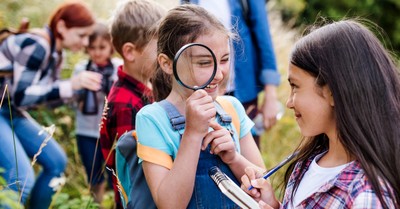 By Ruth O'Neil, Crosswalk.com
Family Togetherness
There were days when I wished for a little less family togetherness. We would be trying to do schoolwork when one child would complain that another was breathing too loudly or that they couldn't concentrate while the other recited multiplication tables. For a while, it was hard for us to get through school each day. My first instinct was to separate everyone instead of having one schoolroom. But then I realized we were all tired. Tired of schoolwork. Tired of chores. Because school took so long most days, there wasn't time to do anything fun together. It was time for things to change. Many families have movie night or game night. Those can be fun family activities that bind us together, but sometimes we need new ideas. As homeschooling families, we're used to being creative. That applies to having fun together and strengthening that family bond.
1. Four-Day School Week
One of my friends used to give her kids Friday off every week. It sounded like a good idea, but I wondered if we could do it and stay on our schedule. I found all we had to do was one extra lesson on one subject each day. We were still getting five days of schoolwork done in just four days. That left Friday for errands, field trips, or just relaxing.
2. Field Trips
Fortunately, we belonged to a homeschool co-op that planned several field trips a year. These are fun days we could spend together doing something besides schoolwork and chores. The field trip day would end up being our day off for the week. If you don't belong to a homeschool group that plans field trips, plan your own. Google "homeschool days" for fun destinations in your area that offer discounts. Is there something your child is particularly interested in? See if you can make it a field trip. If one of your kids wants to be a veterinarian, call a local one and see if you can come observe for a few hours. Plan day trips to historical places in your area. Those are fun and educational, especially if they correspond with lessons you are currently teaching.
3. Do for Others
Nothing can pull a family together more than doing something for someone else. Do you know a family in need? Grocery shop together to buy things the family would like. Allow the kids to pick items so they feel as if they are participating. When children work together to help someone else, it draws them closer by realizing how fortunate they are. If you just want to fix a meal, work together as a family from the planning to the shopping to preparing and delivering.
4. Subscription Boxes
Everyone has heard of game night. How about subscription box night? One of my friends often posted about trying foods from different countries. Her pictures looked like so much fun that I wanted to be a part of her family. Then she told me it was a subscription! Universal Yums is one. They have different size boxes, but all come with information about the country as well as some of the country's popular snack foods.
5. Cook Together with a Twist
There are a plethora of cooking shows on TV. You can pick your favorite cooking show and make it your own. One family called theirs "Cutthroat Kitchen–Campbell Style," The kids split up into teams and were given play money and ingredients. Dad supplied the sabotages. It got the kids thinking as a team and overcoming obstacles.
6. Family Paint Night
I have another friend who hosts a paint night. She comes up with easy designs that most anyone can do. For a small fee, families can spend an evening learning painting techniques and making their own items to take home. These items range from mugs to plaques to canvas. YouTube can also be a great resource for simple painting techniques. Watch the video beforehand, gather the supplies you need, then get the family together at the kitchen table to watch the video and create their own designs.
7. Escape Room at Home
Escape rooms are so much fun. People go and voluntarily get locked in a room. They go through a maze of clues until they find the key that unlocks the door and lets them out. You can find multiple plans for virtual escape rooms that you can customize for your family. Many plans offer not only team-building exercises for your family but also reinforce what you are teaching in class. Download several different plans, so you're prepared when the family wants to do it another day.
Time spent with your children is so much better than anything you can buy. Build those memories that will last a lifetime.
Copyright 2022, The Old Schoolhouse®. Used with permission. All rights reserved by the author. Originally appeared in the Summer 2022 issue of The Old Schoolhouse® Magazine, the trade publication for homeschool moms. Read The Old Schoolhouse® Magazine free at www.TOSMagazine.com, or download the free reader apps at www.TOSApps.com for mobile devices. Read the STORY of The Old Schoolhouse® Magazine and how it came to be.
Photo credit: ©GettyImages/Halfpoint
Ruth O'Neil, born and raised in upstate New York, attended Houghton College. She has been a freelance writer for more than twenty years, publishing hundreds of articles in dozens of publications. You can visit her at ruths-real-life.blogspot.com or on her website at ruthoneil.weebly.com. Ruth spends her spare time quilting, scrapbooking, and camping with her family.
Related podcast:
The views and opinions expressed in this podcast are those of the speakers and do not necessarily reflect the views or positions of Salem Web Network and Salem Media Group.
Read the full article here!