What Can We Learn from the Fly in the Ointment Bible Verse?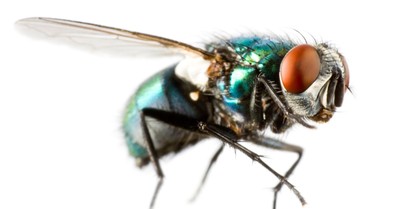 By Lianna Davis, Crosswalk.com
Scripture says: "Dead flies make the perfumer's ointment give off a stench; so a little folly outweighs wisdom and honor" (Ecclesiastes 10:1). The Scripture clarifies that wisdom-seeking wisdom is close to God's heart. Living wisely in the world is called orthopraxis—"right living." Scripture helps us apply God's moral principles to our lives—principles given in the ten commandments and rooted in the natural law that God established at creation and embedded in the heart of man (Romans 2:15). God's moral order stems from His eternal law, or how God orders Himself. In turn, God orders creation and helps us know how to live with the grain of the universe.
Which Book of the Bible Talks about a Fly in the Ointment?
Wisdom literature in Scripture is concerned with taking God's moral law and applying it to our daily lives. Among other topics, wisdom literature teaches us how to avoid sexual sin, honor our neighbors, treat work and rest, and worship God.
The "fly in the ointment" verse appears in Ecclesiastes, a book highly concerned with this life's vanity. We can seek pleasure in our earnings, relationships, eating and drinking—and more. But all is considered vanity because all earthly pleasure will disappear. Only what is done for the Lord and His kingdom will remain embedded forever in our hearts to God's glory. So, while we are here, we can enjoy earthly gifts, but should remember that we are finite creatures intended for life in a different world—not a fallen life, but a life aligned with God's glory.
This truth is why Ecclesiastes ends with its verse of ultimate wisdom: "The end of the matter; all has been heard. Fear God and keep his commandments, for this is the whole duty of man" (Ecclesiastes 12:13). The author wants us to know that following God is all that will ultimately matter—and to order our lives accordingly. When our actions follow God's wisdom, we participate in God's eternal order for the world.
Why Does Ecclesiastes Compare Folly or Foolishness to a Fly in the Ointment?
The "fly in the ointment" passage gives us a special warning. It reminds us that one act of sin can ruin a reputation. One act of disregard for God's wisdom can ruin a life. One act of immorality can set us on a path of destruction. One dead, ill-smelling fly can ruin the perfumer's concoction. So, we should watch our steps so that one act of folly does not cause our lives to become foul.
Ecclesiastes 7:1 states: "A good name is better than precious ointment," so we ought to want to preserve the beauty before the eyes of the Lord of a good reputation founded on solid moral actions.
Jesus wants us to remember that He is the fountain of all wisdom. We can look to Him when unsure how to act in this world. Knowing when to speak up about society's wrongs or when to keep quiet can be difficult. Knowing when to speak instead of staying still can be difficult. God has a different plan than our plans.
Jesus wants all of the lives of His beloved church to smell like perfume, a pleasurable aroma in the heavens for God's heart to delight in. Scripture says, "We are the aroma of Christ to God among those who are being saved and among those who are perishing" (2 Corinthians 2:15). But, interestingly, Scripture says that we will bring a distinct aroma to those in the world: "death to death." We may not know how best to spread Christ's aroma in the world—how to win souls to life. But God, in His wisdom, will help us as we keep our lives from folly and attuned to His wisdom. Living according to a biblical ethic, and being willing to proclaim Jesus Christ, makes our Christ-like scent clear to everyone.
Where Else Does the Bible Warn about Folly or Foolishness?
In addition to Ecclesiastes, we also have many verses of wisdom in Scripture in the book of Proverbs. It tells us that the way of God is righteousness and listening to His heart for us, and the way of the world is foolishness and leads to living for self-interest above all.
When we are living for Christ and His kingdom, we can know that there is a telos, the end goal of our lives that it is the glory of God. 1 Corinthians 10:31 teaches us that all of our daily activities can be done toward this ultimate end: "So, whether you eat or drink, or whatever you do, do all to the glory of God." So, as we approach our lives, wanting to live with wisdom so that our lives do not have a "fly in the ointment" crisis, we can know that our lives' ultimate purpose is God's glory in Christ.
As we look to Jesus Christ—toward His will for us and our lives so that we avoid folly and follow His wisdom—we can remember one thing. We remember that Christ and His sacrifice is the ultimate fragrant offering before God. Ephesians 5:2 tells us, "And walk in love, as Christ loved us and gave himself up for us, a fragrant offering and sacrifice to God." Christ is the pleasing aroma to God. And we must align ourselves with His fragrance.
So, all of our lives can have an ethic of applied Christology: we can mirror the ways of Jesus Christ in our daily lives, remembering His perfect life, His sacrificial death and burial, and His triumphant resurrection as we live. Our lives are not merely presented to the world as a set of good acts, though that is true. What differentiates us from the world is the justification we have received in Christ as a gift. His gift spurs us toward good actions.
This way of living is known as the indicative-imperative principle of Scripture. We fully take into our minds and hearts what God has done for us (indicative). We live out the commandments (imperative) of Scripture as a loving response.
How Can We Follow the "Fly in the Ointment" Verse's Advice Today?
We must do several things to follow the "fly in the ointment" warning today.
First, we remember that God has made us who are saved into Christ's fragrant aroma to God. We bear His Name, His victory, and His salvation purposes as our identity because we have been reborn through the forgiveness of sins in Jesus. This is who we are; this is what is true about us. Our love and grace should herald Christ's sacrifice to the world. Second of all, we can heed the principle that even one act of sin can bring a stench to our lives. We want to reflect the beauty of Christ's sacrifice and love in our ethical actions and how we live out our lives—doing all to the glory of God in Christ.
Further Reading:
Why Does Fly Mean Bible Definition and References
Easton's Bible Dictionary – Ointment
What Does Fly, Flies Mean — Bible Definition and References
Why Is Ecclesiastes Included in the Bible?
Fly; Flies - Meaning and Verses in Bible Encyclopedia
Ointment – Smith's Bible Dictionary
Anointing – Torrey's New Topical Textbook
Photo Credit: © Getty Images/Gewoldi
Lianna Davis is author of Keeping the Faith: A Study in Jude and Made for a Different Land: Eternal Hope for Baby Loss. She is also a contributor to We Evangelicals and Our Mission with Cascade Books. Lianna is a graduate of Moody Bible Institute and a student at The Southern Baptist Theological Seminary. She lives in Illinois with her husband and daughter. You can learn more about her writing at her website.
---
This article is part of our larger resource library of popular Bible verse phrases and quotes. We want to provide easy to read articles that answer your questions about the meaning, origin, and history of specific verses within Scripture's context. It is our hope that these will help you better understand the meaning and purpose of God's Word in relation to your life today.
"Be Still and Know that I Am God"
"Pray Without Ceasing"
"Fearfully and Wonderfully Made"
"All Things Work Together for Good"
"Do Not Fear"
Listen to our Daily Bible Verse Podcast Now!
The views and opinions expressed in this podcast are those of the speakers and do not necessarily reflect the views or positions of Salem Web Network and Salem Media Group.