Fight the Appeal of Sin with the Truth of the Word (Luke 17:1) - Your Daily Bible Verse - August 3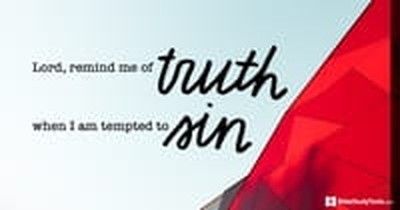 Crosswalk.com

BIBLE VERSE OF THE DAY: Jesus said to His disciples: "Things that cause people to stumble are bound to come, but woe to anyone through whom they come." Luke 17:1
Fight the Appeal of Sin with the Truth of the Word
by Lynette Kittle
One Sunday morning I dug through my drawer and pulled out a pair of white pantyhose. "Great," I thought, just what I needed to complete my outfit.
After checking for runs and snags, I pulled them on. At the time they seemed to fit well so I put my shoes on and ran for the door.
However soon after arriving at church and walking my daughters to their classrooms, my hose started to slip.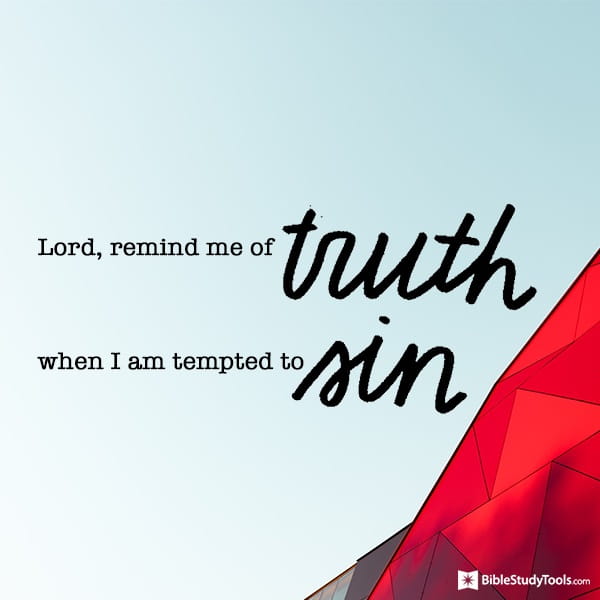 As hip-huggers, it wasn't too bad and I honestly thought. "I can live with it." But as I continued to walk, the hose continued to spiral downward. With each step they slipped further, moving to my knees, then inching just above my ankles, making it more and more difficult to walk with every step.
Jesus told his disciples how things that cause people to stumble are bound to come (Luke 17:1). I just wouldn't have guessed it coming through a hasty fashion choice on my way to church.
Hidden by my maxi dress, I waddled into the ladies restroom. One might think there would be no question what strategic decision needed to be made. However, I actually questioned whether or not to pull up my stretched out stockings and keep trying to wear them. My DIY ideas ran from tying a knot on the side in effort to keep them up, or, twisting and tucking them into my slip?
Yet just trying to walk and move around would be uncomfortable and difficult. My mind envisioned how my walking, sitting, and standing would be impaired, and how weird my moving would appear to onlookers, along with inhibiting my participation and fellowship at church.
Thinking back it's easy to see that I just needed to take them off and pitch into the nearest wastebasket, especially so I could enjoy church. It should have been a no-brainer. Why would I even consider continuing to wear them?
Surprisingly, those sagging stockings turned my thought to consider sin's appeal in life. It can be so obvious when something isn't beneficial for me and is causing unnecessary challenges and difficulties to my daily walk.
Yet at the same time, things can have such a hold or appeal in my thinking that it's difficult to give up. Thankfully, when tempted and feeling weak about making right choices, I can turn to God who empathizes with my weaknesses, One who has been tempted in everyway but not sinned (Hebrew 4:15).
Scripture describes how it's my decision whether to hold-on or let-go of sin when it becomes evident in my life. Galatians 5:1 encourages me that because Christ has set me free, I can stand firm and not let myself be bound by sin.
Surprised by my real-life footstep hindrances, I wouldn't have ever guessed an old pair of hose would offer me such a practical example of sin's ability to entangle and trip up my walk.
Hebrews 12:1 encourages me to "throw off everything that hinders and the sin that so easily entangles" so I can run with perseverance the race marked out before me.
Thankfully I came to my senses and threw those pantyhose into the trash, choosing to freely (and literally) walk away, free from entanglement.
Lynette Kittle is married with four daughters. She enjoys writing about faith, marriage, parenting, relationships, and life. Her writing has been published by Focus on the Family, Decision, Today's Christian Woman, kirkcameron.com, Ungrind.org, and more. She has a M.A. in Communication from Regent University and serves as associate producer for Soul Check TV.
We want to experience God through the Bible… we really do!
But our good intentions fall flat when reading the Bible just doesn't seem to help us experience God in a real way. What should feel alive often feels confusing and boring and irrelevant. But it doesn't have to.
In the How to Study the Bible podcast, pastor and Bible teacher Nicole Unice brings life back to reading the Bible by walking listeners through her Alive Method of Bible study, helping us personally encounter God through his Word by giving us a practical, clear road map for understanding, interpreting and applying Scripture to our lives. Just click below to start listening now!