'How Great Is Our God' Chris Tomlin Live Performance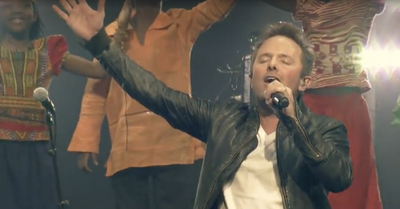 By from GodTube.com, Crosswalk.com
'How Great Is Our God' Chris Tomlin Live Performance from chris-tomlin on GodTube.
Check out this moving version of 'How Great Is Our God' by Chris Tomlin from a Passion conference.
The video starts off with showing scenes of India and other places around the world. Then Chris Tomlin starts singing 'How Great Is Our God' while a stadium of people are worshiping along to the song and raising their hands up towards heaven. What a beautiful sight.

"The splendor of a King, clothed in majesty, let all the Earth rejoice, all the Earth rejoice
He wraps himself in light, and darkness tries to hide, and trembles at His voice
Trembles at His voice, how great is our God, sing with me, how great is our God
And all will see, how great, how great is our God"

Other musicians come into the song after the first verse and start singing the lyrics in different languages. And the video continues to show scenes from around the world. It is such an amazing and powerful moment of worship!

Later in the worship song, there is also an African choir that comes on stage and sings and dances in the back of the stage. So many people in one place singing out to God and worshiping in their own language!

There is so much life and beauty and powerful worship happening in this video. And it is a great reminder of how great our God is and all of His creation!

We hope that you enjoyed listening to this live performance of 'How Great Is Our God' by Chris Tomlin and that the video was able to uplift you and encourage you in some way today!

1 Chronicles 29:11, "Yours, O Lord, is the greatness and the power and the glory and the victory and the majesty, for all that is in the heavens and in the earth is yours. Yours is the kingdom, O Lord, and you are exalted as head above all."
Originally published on GodTube.com, used with permission.